BY CODY BOTELER | SEP 10, 2019
U.S. News & World Report for the first time ranked Towson University among top national schools this year. Previously, it had been ranked as a top regional, but not national, school.
Towson University ranked as the 98th-best public school and 197th-best overall school nationally for 2020. The rankings were released Monday. Towson University tied with Illinois State University in both rankings.
"This recognition reflects the excellence of our world-class faculty, coupled with the relevance and rigor of our degree programs," University President Kim Schatzel said in a statement.
For the last three years, Towson University has ranked in the top 15 public schools in the northern region. Towson was "thrust" into the national category because of a change in its Carnegie Classification, officials said in a release. The Carnegie Classification is a framework system that has been in place since the 1970s to classify institutions in roughly similar groupings. The classifications are often used in research studies that compare similar institutions.
READ MORE >>
---
Veteran filmmaker Jeremy Newberger says his latest documentary happened almost by accident. Good timing, an abundance of preparations and a confluence of events helped make "Heading Home: The Tale of Team Israel" a reality, he says.
The 87-minute film tells the David-and-Goliath story of Israel's national baseball team while competing for the first time in the World Baseball Classic of 2017. With a roster including many Jewish-American Major League Baseball players – such as Ike Davis, Josh Zeid and ex-Braves catcher Ryan Lavarnway — the team made sports history and won the hearts of Jews around the world.
"Heading Home," which was released last year, will be screened on Sunday, Sept. 8, at 7 p.m. at the Hillel Lounge at Newell Dining Hall at Towson University. The screening will be hosted by Towson Hillel and the Jewish Tigers Alumni Alliance. READ MORE >>
---
Jake Campbell is the Assistant Director of Hillel at Towson University. He was previously the Executive Director of the Australasian Union of Jewish Students, the Jewish Student Life Coordinator and Ezra Fellow of Hillel at Florida State University and a founding resident of Moishe House Sydney. Before making the switch to Jewish Higher Education and Nonprofits, Jake worked in a corporate higher education company as a team leader of the mentor department and previous to that was a high school English and History teacher.
---
BY VICTORIA BROWN | MAY 29, 2019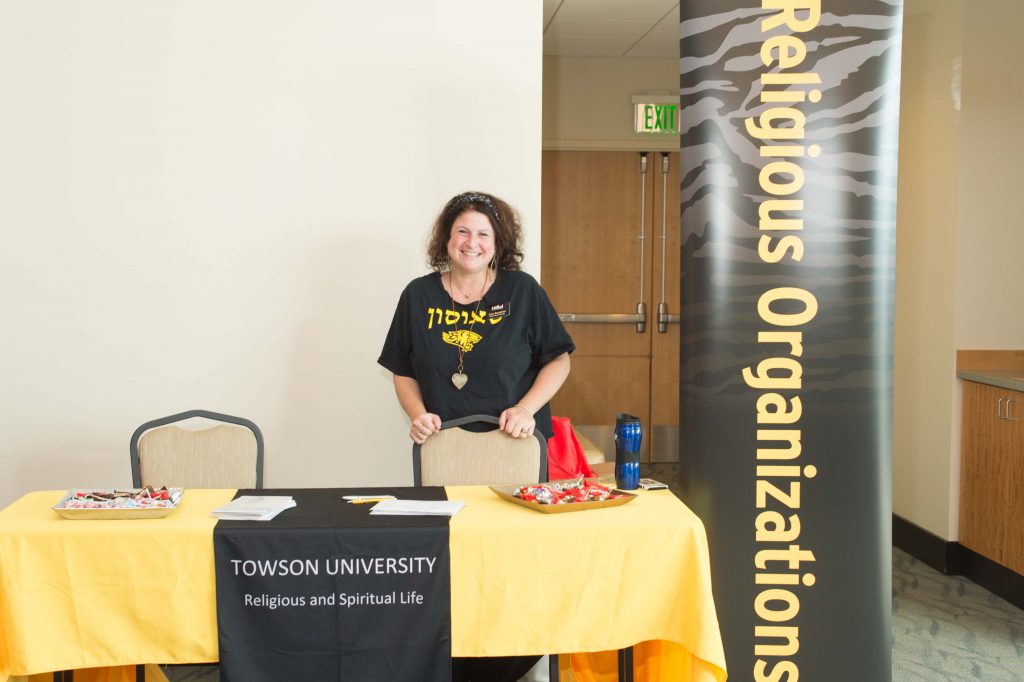 A native of Savannah, Georgia, Lisa Bodziner has lived in Baltimore for eight years. Before Baltimore, she attended the University of Wisconsin—Madison and then lived in Israel to study at the Pardes Institute of Jewish Studies where she received her master's degree in Jewish Education. After teaching sixth through twelfth grade in California, Bodziner moved to Baltimore where she has worked at a number of venerable Jewish institutions including the Pearlstone Center and The Louise D. and Morton J. Macks Center for Jewish Education. Bodziner currently works at the executive director of Towson University Hillel.
Certainly the general concept of community. My husband and I, we come from different places but what we want to instill in our children is the value of community and taking care of everybody whether they're mourning or just had a baby. I think our tradition does an incredible job of teaching each one of us that it really is incumbent upon us to not just take care of our immediate family but to lovingly and openly and warmly embrace all people. So the concept of kehillah (community) means a lot to us.
And Shabbat, just as an experience to unplug and be with family and friends and not be distracted by screens and technology, is sacred for us and our family and our community.
And I think that the concept of hakhnasat orchim just warmly welcoming guests. I serve as a lay leader at my shul and I really feel like my job is to make everyone feel at home.
I have always been kind of crafty and loved hands-on activities, I was a street vendor in college and sold jewelry and crafts, did metalsmithing. So I got to Israel and was learning, like 10 hours a day and I was kind of missing that creative element. A sofer came and said he was offering private classes for people to learn how to scribe the Hebrew alphabet. It was an incredible opportunity because you can get to learn about the characters of the alphabet and meditating on each Hebrew letter. I got really into it and then people started asking me to make pieces for them. And then I scribed ketubot, wedding documents, for married couples, I ended up scribing my own ketubah for our wedding. As an observant Jewish woman, I don't scribe mezzuzot or Torah or tefillin, but it's certainly still an incredible experience to be able to sit down and really meditate on the Hebrew alphabet, and have that creative connection with Judaism and the Hebrew letters. I did my best friends' ketubot, and psalms or Eshel Chayil, woman of valor for other people. So it really satisfied that creative side of me and continues to.
---
It had only been four months since Shachar Pinsky arrived on Towson University's campus as its new Jewish Agency Israel Fellow.
Hoping to strengthen students' connections to Israel, and working closely with the campus Hillel, he was beginning to see results. At times, he admits, it wasn't easy. Many of the Jewish students he encountered were apathetic. In their world, filled with academics, sports, activities and friendships, Israel was just not that important. Yet, here he was in Israel, leading a group of Towson Hillel students on a Birthright trip over winter break. READ MORE >>
---
Jewish Times | Baltimore
Towson University Hillel Celebrates 21
BY SUSAN C. INGRAM | MAY 8, 2019
More than 150 people turned out in the rain May 5 to celebrate Towson University Hillel's 21st birthday. Billed as "Cheers and Peers to 21 Years!" the event included food and drink; music by False Peak and Tall in the Saddle; a children's area; and Jewish organization and information booths.
The Associated: Jewish Federation of Baltimore's Ruth Miller and Towson University president Dr. Kim Schatzel made an appearance.
"Overall it was a phenomenal day with a great turnout," said Towson Hillel executive director Lisa Bodziner. "Despite the weather, people came out to have a good time, show their support and celebrate Towson Hillel turning 21!
I couldn't have asked for more of a community event and it was super fun for the kids to get face paint and dance in the rain! There were young families, board members, students, parents and so many community partners and sponsors here that came out to say 'ain't no rain gonna come down on my parade,' and you really could feel that warmth."
READ MORE >>
---
The Baltimore Sun
Towson University unity rally: 'We have the right to protest against the hatred and bigotry'
BY LIBBY SOLOMON | APRIL 25, 2019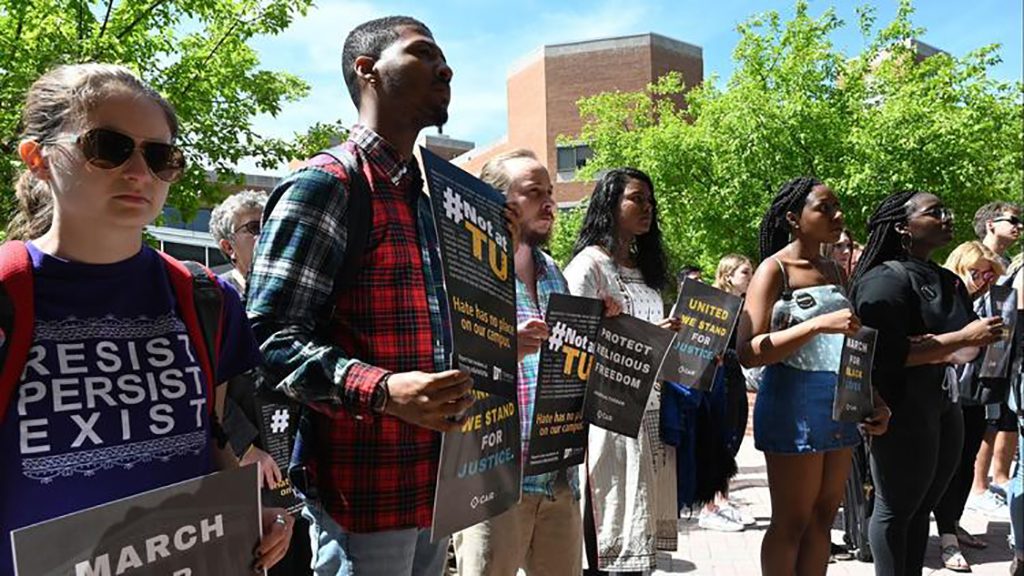 Iqra Zulfiqar, a Muslim freshman at Towson University, said she chose her school for the "vibe" — it felt welcoming. So when five members of a church in Pennsylvania arrived on campus last week bearing signs saying Muslims are destined for "hellfire," Zulfiqar said seeing hundreds of students peacefully counterprotesting was heartening. "The response from students could not have been better," said Zulfiqar, 18. "It was just pure unity."
Students from the school's Muslim community and other campus groups reaffirmed that unity Wednesday, less than a week later, with a rally hosted by the Muslim Student Association and the Council on American-Islamic Relations (CAIR).
Last week's protest, which began on campus and was moved to a public road, was met by hundreds of student counterprotesters who waved gay pride flags and chanted "love is love."
---
JMore | Baltimore Jewish Living
Towson Hillel Celebrates 21st Birthday with Festival
BY ANNA LIPPE | APRIL 23, 2019
It's not every day that you turn 21. So for this milestone, Towson Hillel will celebrate its 21st with an outdoor family-friendly music festival and fund-raiser on May 5 from 1 to 4 p.m. at Tiger Plaza, 251 University Ave., on the campus.
The event will include family-oriented activities, tables from local organizations, live music from the bands Tall in the Saddle and False Peak, and a beer garden for those over the age of 21.
The gathering will also recognize new Hillel board members and graduating seniors. "Our seniors have an emotional connection to Hillel," said Lisa Bodziner, executive director of Towson Hillel.
---
Towson University News
TU transforming Armory into hub for partnership & connection
BY SEAN WELSH | MARCH 29, 2019
Towson University has entered into a long-term lease agreement at the former Maryland National Guard building in uptown Towson.

Towson University takes another step in President Kim Schatzel's Together Towson initiative by utilizing a unique uptown Towson space to serve as the new "front door" to the university. In doing so, TU continues forward in its role as a major anchor institution and economic-driver in Great Baltimore.
The former Maryland National Guard Armory building will serve as the home for a number of programs and offices focused on community engagement and outreach, entrepreneurship, continuing education and workforce development. Following our anchor scan strategy and aligned with the BTU Presidential Priority, this vibrant and public-focused space will create new engagement opportunities for regional leaders to connect, convene, and collaborate alongside TU's faculty, staff, and students.

READ MORE >