Press | Towson University Hillel
---
The Associated | Jewish Federation of Baltimore
Israel Fellows Changing Campus Narrative
It had only been four months since Shachar Pinsky arrived on Towson University's campus as its new Jewish Agency Israel Fellow.
Hoping to strengthen students' connections to Israel, and working closely with the campus Hillel, he was beginning to see results. At times, he admits, it wasn't easy. Many of the Jewish students he encountered were apathetic. In their world, filled with academics, sports, activities and friendships, Israel was just not that important. Yet, here he was in Israel, leading a group of Towson Hillel students on a Birthright trip over winter break. READ MORE >>
Program Director, Leora Match (left), Israel Fellow, Shachar Pinsky, Executive Director, Lisa Bodziner (right).
---
Jewish Times | Baltimore
BY SUSAN C. INGRAM | MAY 8, 2019
Towson University Hillel Celebrates 21
More than 150 people turned out in the rain May 5 to celebrate Towson University Hillel's 21st birthday. Billed as "Cheers and Peers to 21 Years!" the event included food and drink; music by False Peak and Tall in the Saddle; a children's area; and Jewish organization and information booths.
The Associated: Jewish Federation of Baltimore's Ruth Miller and Towson University president Dr. Kim Schatzel made an appearance.
"Overall it was a phenomenal day with a great turnout," said Towson Hillel executive director Lisa Bodziner. "Despite the weather, people came out to have a good time, show their support and celebrate Towson Hillel turning 21!
---
The Baltimore Sun
BY LIBBY SOLOMON | APRIL 25, 2019
Towson University unity rally: 'We have the right to protest against the hatred and bigotry'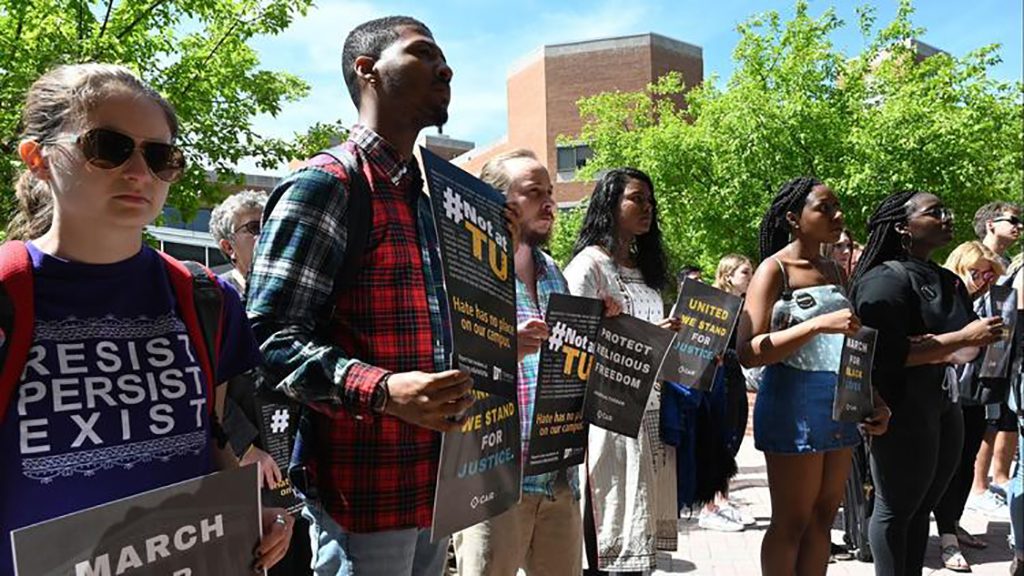 Iqra Zulfiqar, a Muslim freshman at Towson University, said she chose her school for the "vibe" — it felt welcoming. So when five members of a church in Pennsylvania arrived on campus last week bearing signs saying Muslims are destined for "hellfire," Zulfiqar said seeing hundreds of students peacefully counterprotesting was heartening. "The response from students could not have been better," said Zulfiqar, 18. "It was just pure unity."
Students from the school's Muslim community and other campus groups reaffirmed that unity Wednesday, less than a week later, with a rally hosted by the Muslim Student Association and the Council on American-Islamic Relations (CAIR).
Last week's protest, which began on campus and was moved to a public road, was met by hundreds of student counterprotesters who waved gay pride flags and chanted "love is love."
---
JMore | Baltimore Jewish Living
BY ANNA LIPPE | APRIL 23, 2019
Towson Hillel Celebrates 21st Birthday with Festival
It's not every day that you turn 21. So for this milestone, Towson Hillel will celebrate its 21st with an outdoor family-friendly music festival and fund-raiser on May 5 from 1 to 4 p.m. at Tiger Plaza, 251 University Ave., on the campus.
The event will include family-oriented activities, tables from local organizations, live music from the bands Tall in the Saddle and False Peak, and a beer garden for those over the age of 21.
The gathering will also recognize new Hillel board members and graduating seniors. "Our seniors have an emotional connection to Hillel," said Lisa Bodziner, executive director of Towson Hillel.
---
Towson University News
BY SEAN WELSH | MARCH 29, 2019
TU transforming Armory into hub for partnership & connection
Towson University has entered into a long-term lease agreement at the former Maryland National Guard building in uptown Towson.

Towson University takes another step in President Kim Schatzel's Together Towson initiative by utilizing a unique uptown Towson space to serve as the new "front door" to the university. In doing so, TU continues forward in its role as a major anchor institution and economic-driver in Great Baltimore.
The former Maryland National Guard Armory building will serve as the home for a number of programs and offices focused on community engagement and outreach, entrepreneurship, continuing education and workforce development. Following our anchor scan strategy and aligned with the BTU Presidential Priority, this vibrant and public-focused space will create new engagement opportunities for regional leaders to connect, convene, and collaborate alongside TU's faculty, staff, and students.

READ MORE >