The Towson University community came together Monday night at Speaker's Circle in the middle of campus to reflect upon recent acts of hatred across our nation.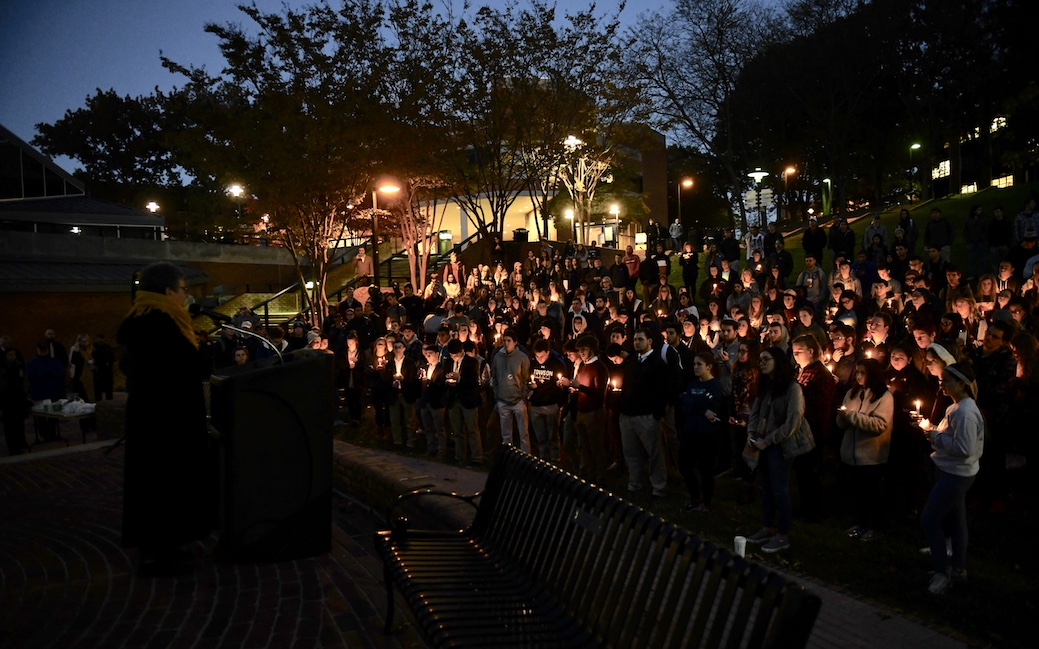 Rabbi Mendi Rivkin addressed the crowd, many of them Jewish students at TU, and asked those gathered on the hillside to drive out darkness with light, sharing a flame to light candles that illuminated the crisp October night.
Rivkin specifically addressed the Jewish community at TU following the acts of hate that left 11 dead at a Pittsburgh synagogue Saturday.
"How we respond is what makes a difference," Rabbi Rivkin said. "The answer to hate, the answer to darkness, is to add more light."
He closed his remarks thanking the Towson University community, from staff to President Kim Schatzel to students who have reached out since Saturday's attacks.
"Knowing that you care, it really, really helps," Rivkin said.
Jodie Teitelman, a Hillel student at TU, said she wishes she "could say never again and believe it" when it comes to hateful acts like Saturday's mass shooting.
But she said the outpouring of support from those surrounding her at Towson University have made a difference — like the reassuring presence of Towson University police officers who visited the Hillel offices to ensure students felt safe.
"These actions have given me hope," she said.
Monday's vigil was hosted by TU Hillel and Chabad House.
President Schatzel issued a statement Monday to students, faculty and staff, saying, in part: "At TU, we condemn these criminal acts of hate, bias and racism and must continue to hold true to our values of diversity and inclusion that support all members of our community to thrive, regardless of their race, religion, ethnicity, gender identity, sexual orientation or levels of ableness."
Members of the TU community grieving from the impact of these horrific attacks can seek support from TU's Counseling Center and through our Employee Assistance Program.
President Schatzel closed Monday's vigil asking all those in attendance to lock arms.
"We are the ones that stand against hate," President Schatzel said.
"It is only with all of us standing together with love against hate that we will push it back," President Schatzel said. "I feel it strongly on this campus, and I feel it strongly in all of you. That is what makes our community strong."
Echoing the sentiments of Rabbi Rivkin, President Schatzel concluded by saying, "We will do everything in our powers to push the light forward and push back the darkness. Care for each other, and spread the love tonight to everyone you come in contact with, and stamp out the hate."
This story is one of several related to President Kim Schatzel's priorities for Towson University: Diverse and Inclusive Campus
Full Article: https://www.towson.edu/news/2018/mondayvigil1029.html?utm_source=news&utm_medium=newsfeed